O

Our method
Babino is a childcare organization that has been active in the industry for many years. There are several Babino locations in the Zaanstad region and the Haarlemmermeer. Babino offers professional care in a familiar environment. Every child is unique and safety and reliability are paramount!
Babino is an open and flexible organization that focuses on quality and professionalism. To guarantee this quality, we are well aware that the pedagogical policy will never be finished, which is why we are constantly looking for improvement.
You can read all about Babino's working method in the pedagogical policy plan. The policy plan is based on the four competences, as they are referred to in the quality covenant of the Childcare Branch Association and the Interest Association of Parents in Childcare (BOINK). In the pedagogical policy plan we explain our vision on pedagogical action and our goals.
Sports at after-school care
Babino believes it is important that children exercise enough, have fun and play together. A wide range of activities are offered for the children during after-school care. Our teachers focus their activities on stimulating the development of your child(ren), such as improving motor skills and social interactions. The teachers take into account the level of the children and adjust the games accordingly. The teachers encourage the children to participate in activities, which are done in groups as much as possible. Children are also challenged to bring in their own ideas and try out new games.
Sports is not just about performance! Babino wants to teach children that moving is fun. While performing the activities, fun is paramount!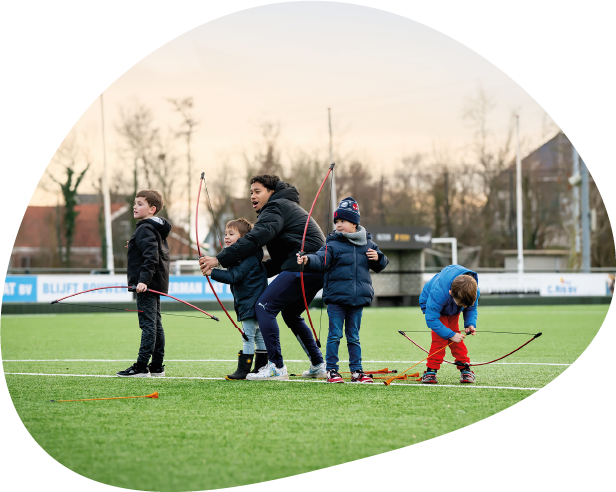 ABC-swimming
Babino believes it is important that every child has the opportunity to learn to swim. That is why Babino offers swimming lessons for children from after-school care. When your child is registered at one of the after-school care centers in the Zaanstreek region, you can register your child for swimming lessons. The swimming lessons take place at Zaangolf Swimming pool in Koog aan de Zaan. The children swim via Babino on Monday and Thursday afternoons.
In our protocol 'Diploma swimming' you can read more information about how Babino can organize this for you.
Swimming lessons from our BSO locations in the Haarlemmermeer are currently not possible.
Integrated Child Center
At various locations, we are moving towards an Integrated Child Center. An Integrated Child Center is a place where everyone works together based on one vision, one team, and one plan. Within the IKC, infants, toddlers, preschoolers, and children up to the age of 13 are followed in a continuous line of development.
Together with the teachers, we align our educational programs. As a result, children transition smoothly from the childcare center/preschool to primary school. The pedagogical staff and teachers have regular consultations with each other. Everything is aimed at providing the best possible guidance to children in their development, ensuring that they are well prepared for primary education in small steps at an early stage.
Healthy childcare
Babino Childcare is an organization that is and will continue to develop. Part of this development is our policy with regard to healthy childcare. The Nutrition Policy occupies an important place in our healthy childcare. It describes, among other things, the food supply, the role of the teachers, and the guidelines regarding preparation, storage and hygiene.
Babino offers a hot meal at noon at the daycare locations. As a working parent/caretaker you have a busy life in which you want to spend as much time as possible with your children. It can be stressful for parents to prepare a healthy meal after a long day at work. With this service, the children have already had this meal at the daycare, so they can easily eat a sandwich at home.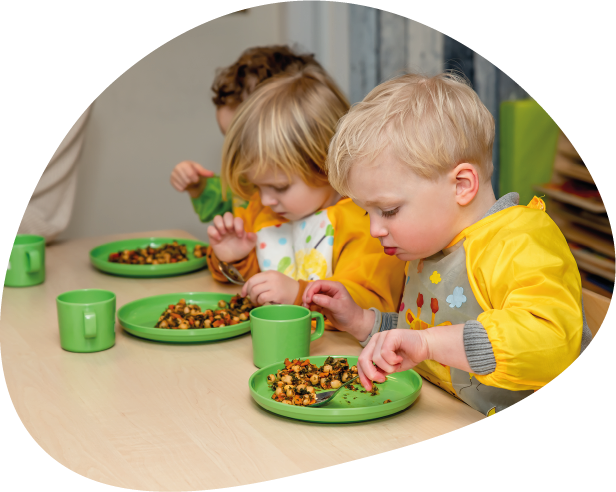 Holidays and Closure Days
Schoolvakanties 2023
Voorjaarsvakantie 25 februari t/m 5 maart 2023
Meivakantie 22 april t/m 7 mei 2023
Zomervakantie 22 juli t/m 3 september 2023
Herfstvakantie 21 oktober t/m 29 oktober 2023
Kerstvakantie 23 december 2023 t/m 7 januari 2024
Closure Days
Tweede Paasdag 10 april 2023 (maandag)
Koningsdag 27 april 2023 (donderdag)
Hemelvaartsdag 18 mei 2023 (donderdag)
Tweede Pinksterdag 29 mei 2023 (maandag)
Eerste Kerstdag 25 december 2023 (maandag)
Tweede Kerstdag 26 december 2023 (dinsdag)
Holidays toddlercare
Voorjaarsvakantie 25 februari t/m 5 maart 2023
Meivakantie 22 april t/m 7 mei 2023
Zomervakantie 22 juli t/m 3 september 2023
Herfstvakantie 21 oktober t/m 29 oktober 2023
Kerstvakantie 23 december 2023 t/m 7 januari 2024
Closure days toddlercare 2023
Tweede Paasdag  10 april 2023 (maandag)
Hemelvaartsdag  18 mei 2023 (donderdag)
                                19 mei 2023 (vrijdag)
Tweede Pinksterdag 29 mei 2023 (maandag)
Closure week 2023
14 augustus t/m 20 augustus 2023
(Deze sluitweek geldt alleen voor BSO Sport Assendelft, BSO de Zoeker, BSO de Brandakker, BSO Olympia, BSO de Heidebijtjes, KDV Ippel Stippel, KDV Zaandijk en KDV Assendelft)